Campus Development
About UWinnipeg
---
A Decade of Transformation
In the past decade, The University of Winnipeg has been responsible for investing more than $200 million in facility construction and renovation in our downtown and West End neighbourhoods. In just over a decade, enrolment has increased by 55%, with approximately 10,000 undergraduate and graduate students attending classes. Several thousand more students take English language and professional development programs on our campus, making UWinnipeg the single largest educational centre downtown.
The University of Winnipeg Community Renewal Corporation, a not-for-profit charitable corporation, spearheads and manages campus development. UWCRC is guided by a four pillared concept of sustainability (environmental, social, economic and cultural) and actively develops partnerships with community, private and public sector organizations.
Under construction at 320 Colony – Opening summer 2016! Downtown Commons apartment block - south of Buhler Centre
On November 25, 2013, UWinnipeg announced construction of
a new housing complex
at one of the city's most iconic locations, between Buhler Centre and the Winnipeg Art Gallery, across from The Bay. The mixed-use building is designed to accommodate both students and community residents. A completion date for the project is late summer 2016.
14 storeys, 112,000 square feet
102 self-contained one, two, and three bedroom apartments
almost half (46 units) will have provincially prescribed rent ceilings to ensure affordability
the remaining 56 apartments will be offered at market price with 16 of those designed as premium units with dedicated parking
an attractive indoor/outdoor amenity area will appeal to family residents



Axworthy Health & RecPlex at 350 Spence Street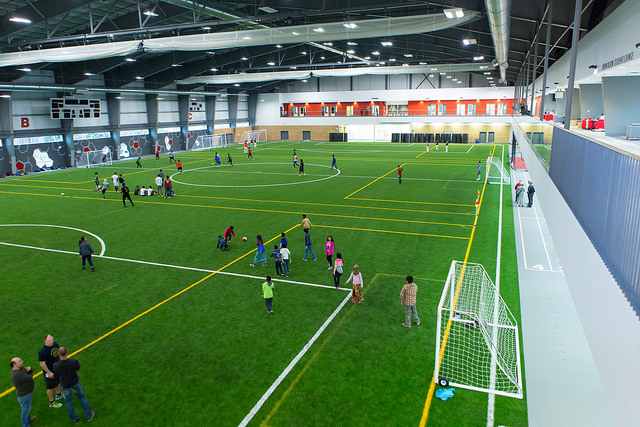 On September 6, 2012, the first shovel went into the ground for the new $40 million Axworthy Health & RecPlex on Spence Street, the largest and most comprehensive athletic and wellness facility ever built in Winnipeg's inner-city. It opened on schedule in September 2014. 
The multi-sport facility helps alleviate the chronic shortage of indoor recreational space in Winnipeg and enhance the UWinnipeg student experience. A unique Community Charter ensures neighbourhood youth and residents have unsurpassed recreational opportunities. The state-of-the-art indoor green space accommodates a multitude of sports such as soccer, flag football and track and field, as well as cultural and community events. 
Community programming is now underway with more in development.
The RecPlex now includes the Great-West Life Healthy Campus and Research Centre, thanks to a generous $500,000 gift announced on May 15, 2014 from Great-West Life to The University of Winnipeg. Part of this donation will support a new position – Executive Director, Wellness and Student Life at UWinnipeg, enabling development of a robust healthy campus initiative.
The new RecPlex is connected by skywalks to UWinnipeg's existing Duckworth Centre.
Projects Completed - At A Glance
Richardson College for the Environment and Science Complex at 599 Portage Avenue is a $66 million signature building with more than 30 state-of-the-art teaching and research laboratories, attracting 2,000people daily. Inside the building at street level is Elements – The Restaurant, which is open to the public and now includes a summer patio.
University of Winnipeg Students' Association Day Care Centre serves 116 preschoolers, toddlers and infants from the UWinnipeg community and the surrounding neighbourhood, making it one of downtown's largest and nicest child care facilities. The Day Care building is also Silver LEED certified.
Buhler Centre at 460 Portage Avenue houses the Faculty of Business and Economics and Professional, Applied and Continuing Education. Plug In Institute of Contemporary Art is located on the main floor and Stella's Café is also at street level. This building alone adds 50,000 square feet to Winnipeg's downtown.
The AnX at 471 Portage Avenue covers 6,000 square feet inside the former Greyhound bus depot. It houses one of downtown's largest bookstores for students, residents and office workers. The main floor refurbishment also includes Garbonzo's Pizza Pub, Starbucks, Powerland Computers and MTS Connect stores, as well as UWinnipeg's English Language Program, Brandon University's nursing program, and University College of the North's midwifery program. The Balmoral Transit Station, located at the AnX, is the downtown terminal for Winnipeg's Bus Rapid Transit system.
Asper Centre for Theatre and Film on Balmoral includes the addition of two new acting studios, a film studio, editing labs and a state-of-the-art flexible theatre, which is used as a venue during the popular Winnipeg Fringe Theatre Festival. The Babs Asper Lilac Garden graces the entry, adding more green space to the neighbourhood.
Convocation Hall, located inside Wesley Hall, is an architecturally stunning hall which was fully restored in 2007. The University of Winnipeg was recognized by Heritage Winnipeg in 2008 with the Heritage Winnipeg Preservation Award of Excellence for a sensitive, thorough, and sympathetic interior restoration.
In and around UWinnipeg's new facilities, extensive upgrades to landscaping enhance community and campus safety and livability. Upgrades include the Portage Commons front lawn, the Richardson Green Corridor linking the western and main campuses, and Spence Street Promenade meeting space.