Duff Roblin Award Dinner
The University of Winnipeg
---
TENTH ANNUAL DUFF ROBLIN AWARD DINNER: AN OVERWHELMING SUCCESS!
The 2016 Dinner raised more than $160,000 for The University of Winnipeg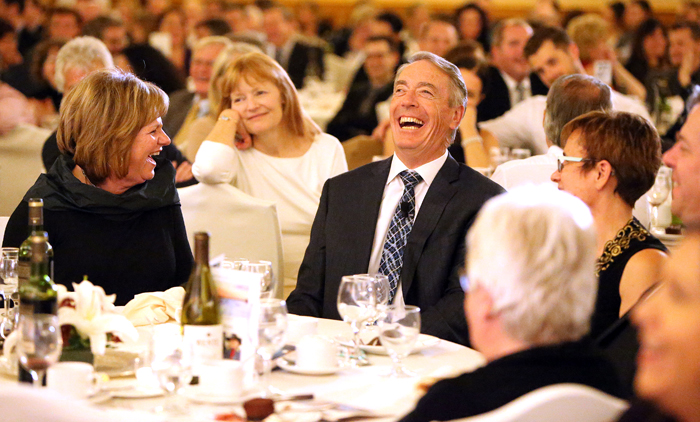 On November 15th, 2016, over 500 guests gathered at The Fort Garry Hotel, Spa and Conference Centre to honour Dr. Gerry Price, Chairman and CEO of the Price Group of Companies, with the 10
th
Annual Duff Roblin Award.
A beloved UWinnipeg tradition in its tenth year, this prestigious award pays tribute to former Premier and inaugural recipient, The Honourable Duff Roblin. It recognizes a recipient's qualities as an outstanding Manitoban and patron of education who has demonstrated a lifelong commitment to community. Dr. Price's vision and dedication is governed by his overarching belief that service, whether in business or philanthropy, is best practiced adhering to the golden rule: treat others as you would like to be treated yourself.
The University of Winnipeg and its Foundation extend warmest thanks to all donors, sponsors, corporate table and individual ticket purchasers, and to all the staff and volunteers who made the evening one to remember. Sincere thanks also go to Foundation board members and Duff Roblin Dinner Co-Chairs R.M. (Bob) Kozminski and Sherri Walsh for their tireless volunteer leadership.
The evening was a tremendous success; generous guests and donors raised over $160,000 for The Duff Roblin Scholars Fund, Community Learning Initiatives, and The Opportunity Fund at The University of Winnipeg.
Click here for photos of the event.
ADDITIONAL LINKS
Missed the dinner, but still want to support academic and community programming at UWinnipeg? Please follow these instructions:  

Online
Visit our secure online donation page and enter "2016 Duff Roblin Award Dinner" under Other as shown below:






By cheque
The University of Winnipeg Foundation
901-491 Portage AVE
Winnipeg MB R3B 2E4
RE: The 2016 Duff Roblin Award Dinner