President & Vice-Chancellor
Administration
---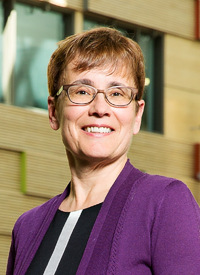 Dr. Annette Trimbee assumed the role of President and Vice-Chancellor at The University of Winnipeg on August 1, 2014.
Dr. Trimbee was Deputy Minister of Service Alberta where she oversaw the department's delivery of citizen-centred service and standardized shared services to government ministries, until July 2014. She also led the department's role in protecting consumers, providing government-wide information and communication services, registry services, and open data and open government policies.
Dr. Trimbee has also served as the Deputy Minister of Treasury Board and Finance, Treasury Board and Enterprise, and Advanced Education and Technology in Alberta. She began her career in the public service with Alberta Environment and has also held leadership positions in Alberta Health and Wellness. 
Her key accomplishments include Budgets 2012 and 2013, aligning post-secondary system capacity through Campus Alberta, developing Alberta's Health Policy Framework, and building Alberta's integrated resource management framework and water policy legislation.
In August 2015, the Alberta government appointed Trimbee to the Alberta Royalty Review.  The panel is tasked with studying the province's oil and gas sector, with a focus on the royalty system.
In October 2015, the Manitoba government appointed Trimbee Co-Chair for the Lake Friendly Stewards Alliance Steering Committee. She is also contributing to the work of the provincial scientific committee on zebra mussels and providing strategic advice on the long term management of Manitoba's water systems relating to trans-boundary issues.
Dr. Trimbee holds a PhD in Ecology from McMaster University, a MSc in Botany from the University of Manitoba, and a BSc in Biology from the University of Winnipeg.
Dr. Annette Trimbee - in her own words